Battery Backup Phones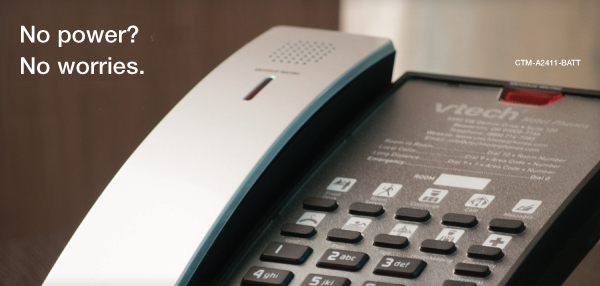 In a power failure, most cordless hotel phones stop working—disrupting conversations and, worse, preventing guests from making emergency calls. VTech cordless phones with battery backup technology keep working, even when the power's out. Not only do they keep guests safe, they can help hotels save money thanks to:
ENERGY STAR® qualification: Lower energy usage translates to lower utility bills.


Universal battery: The base and handset use the same widely available battery, making it easy to replace and keep in stock.


User-friendly design: An indicator light alerts housekeeping staff when the battery needs to be replaced, while an easy-to-access battery compartment on the bottom of the phone makes replacement quick and convenient.


One phone per room: With one phone that works all the time, you have the option to install just one phone per room.


Learn more about Battery Backup Phones

Welcome New Stocking Distributor: Purple Networks

VTech has appointed Purple Networks to be its exclusive stocking distributor of hotel phones in Europe and Africa. With its headquarters and warehouse in the UK, the company will be able to provide quick product delivery and timely customer support for VTech resellers in these regions.
Learn more (PDF)
Did You Know?
Our customers are right at the heart of what features and design elements go into VTech hotel phones. This year, we're excited to announce that all the major hotel brands have agreed to participate in our
Design Council
—our forum for innovating next-generation products.