Siemens Certification Expands VTech's Worldwide Market
In August, VTech's SIP hotel phones earned certification with Siemens' PBX products, making them a viable choice now for properties throughout Europe.

With the Siemens certification, our hotel phones are now interoperable with the major PBX vendors, including Avaya, Mitel, NEC and Alcatel.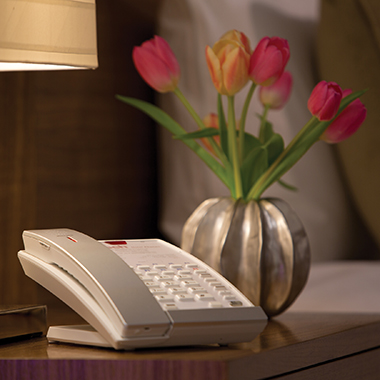 VTech Hotel Phones Garner Rave Reviews at HITEC
HITEC has come and gone, but the buzz about a few of our newer phones continues.

Cordless Phone Compatibility: Some Quick Tips
With the release of our second-generation cordless handsets and an accessory version of our popular Petite Phone®, we've received questions about their compatibility with our first-generation products.

In general, our new handsets are backwards- and forwards-compatible with our product line. Our accessory Petite Phones are only compatible with our second-generation base phones.

For more details and FAQs, download our Cordless Phone Compatibility Chart.

Why VTech
With cost control top of mind for every property, SIP phone solutions make a lot of sense. By installing a VTech cordless SIP solution, properties can cut down on PBX license and cable drop costs per room. They'll also benefit from:
PBX redundancy: If there's an issue with a primary PBX, VTech SIP phones will automatically switch to a backup PBX (if supported), ensuring uninterrupted service.
Delayed hotlines: VTech SIP phones can be programmed to dial for help after a set delay, so that hotel staff can check on guests who may need immediate attention.
802.1x protocol: Thanks to 802.1x compatibility, VTech SIP phones operate on the most highly secure networks.
LLDP-MED: Administrators will appreciate the phones' plug-and-play installation, power management and inventory management.
Virtual 2-line capability: Hotels can provide 2-line functionality to their guests and still save money by using only one SIP license.
SIP admin tools: Administrators can remotely deploy, maintain, manage, and monitor VTech SIP phones.
2-year warranty: All VTech SIP phones come standard with 2-year warranties.
Did You Know?
You can download user guides for all our phones and lifestyle photos on our website here!
Plugged In
Described as an icon on Chicago's skyline, The Langham/Chicago occupies the first 13 floors of a 52-story skyscraper designed by celebrated architect Mies van der Rohe. And now VTech's contemporary, analog hotel phones are adding sophisticated telephony to its 316 guest rooms

specifically one corded A2210 and one corded A2410 per room and one A2310 in each bathroom.
SIP Phone Certifications
VTech hotel phones are certified to work with the PBX products listed below.
Alcatel
Alcatel OmniPCX Enterprise
Avaya
Avaya Communication Manager and Session Manager
Avaya IP Office
Avaya Communication Manager 1000
Mitel
NEC
Siemens
Meet VTech!
2013 Wyndham Hotel Group Global Conference
September 9-12, 2013
Mandalay Bay Resort & Casino
Las Vegas, Nevada
Booth #2043
The Hotel Show
September 28-30, 2013
Dubai World Trade Centre
Dubai, United Arab Emirates
Booth #8A242
Annual Boutique & Lifestyle Leadership Symposium
October 21-23, 2013
Hollywood Roosevelt Hotel
Los Angeles, California
2013 IHG Americas Investors & Leadership Conference/Tradeshow
October 28-30, 2013
The Venetian / The Palazzo / Intercontinental Alliance Resorts
Las Vegas, Nevada
International Hotel, Motel + Restaurant Show (IHMRS)
November 9-12, 2013
Jacob K. Javits Convention Center
New York, New York
Booth #3138